Awaiting restoration
Rocking Horses For Sale
Below are a selection of rocking horses for sale that have not yet been restored or are currently undergoing restoration. These can be reserved allowing you to have an input into making the horse truly your own. With your choice of colour of leather, saddle cloth, rosettes and mane and tail, even paintwork, it can be exactly as you imagine your perfect rocking horse to be.
If you see a horse you'd like more information on please do not hesitate to contact us. New horses arrive regularly and you can be put on our mailing list, just let us know by email
All prices below include restoration, some horses maybe for sale without restoration please enquire.
Thistle ~ Unattributed £3000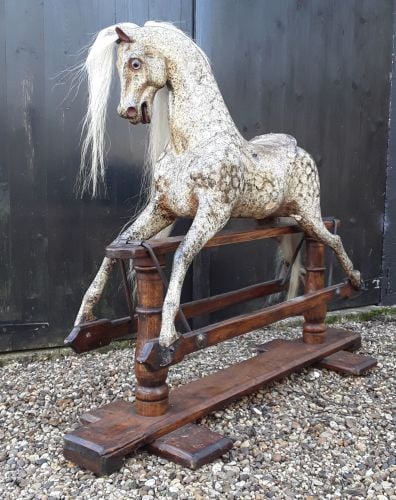 Thistle is unusual, her maker is unknown but theres a possibility she could be a plain carved horse by P. Leach. She has certain attributes of Leach horses, whatever make she is shes very beautiful and will be even more beautiful once restored.
---
Charlie ~ Lines Bros £1000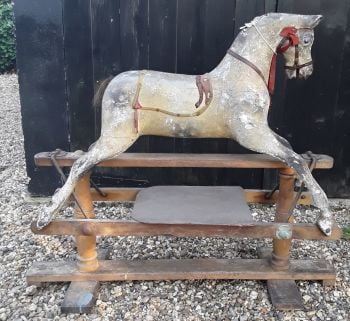 Charlie is so pretty, he is a Lines Brothers Ltd, Sportiboy size 2 38" high, his original paintwork will be restored and he'll have new tack, his original stirrups and bit and rosettes will be retained.
---
Quest ~ Ayres SOLD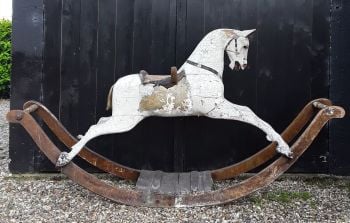 A rare large Ayres bow, circa 1880.
---
Warrior ~ F. H. Ayres £1400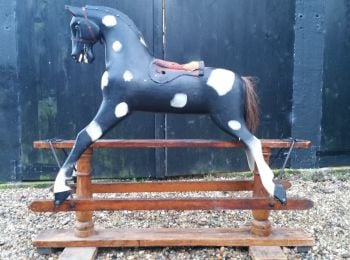 44" high plain carved circa 1910, looks like he has original paint under this black gloss and hopefuly it can be restored.
---
---
If any of our horses are of interest and you would like to view them or would like more detailed information please email or if you're concerned about how to arrange delivery we can always put you in contact with a courier.
&
Rocking Horses Rule complies with the Distance Selling Regulations where horses are bought over the internet or by phone. In those circumstances customers are fully entitled to cancel the sales contract within 7 days of delivery. A full refund will be given provided that the goods are returned in an undamaged state. Customers are responsible for the cost of carriage on returned goods. In accordance with the Distance Selling Regulations the right to cancel does not apply where customers have ordered bespoke rocking horses once work has commenced. Delivery is the responsibility of customers. We can recommend several reputable couriers but strongly advise that customers confirm that couriers are fully insured for the carriage of finished goods.
Copyright Rockinghorsesrule 2011 these photo's must not be copied or reproduced without prior permission.